Teaser Tuesdays
is a weekly bookish meme, hosted by
MizB
of
Should Be Reading.
Any one can participate! Just
1-Grab your current read.
2-Let the book fall open to a random page.
3-Share with us
two (2) "teaser" sentences
from that page.
4- Please share the title and author of the book to allow people to find the book if they like the teaser you'
ve
given!
***Please avoid spoilers!***
"Glow"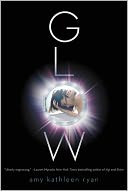 "Suddenly the ship's alarm blared. The Captain's voice came through the intercom, so shrill and loud that she didn't understand the words."
(Page 24)
I can't lie... I kind of wish I could be home reading this book right now. I only got to read a few chapters last night, but it has me hooked!
Feel free to share your teaser sentences by adding a comment.
*I am reading the advanced readers' edition of "Glow" so the page numbers and wording may have changed.